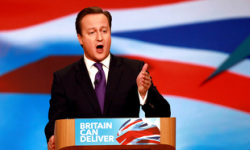 THE CONSERVATIVE PARTY

CLEARING THE DECKS,
26 November 2011

An analysis of the political situation shows the scope for minor parties is growing and that, if the Cameron government goes off the rails, the scope for the minor parties to grow is quite spectacular if they get their own houses in order. It speculates that it is the election, circa 2015, which will have the scope for a major upset in British politics.THE CONSERVATIVES MUST REGAIN CONTACT WITH ECONOMIC REALITY
, 31 March 2010

This article asserts that George Osborne should not trust the GDP figures because there is reason to believe the GDP deflator is underestimated and, therefore, the real GDP is overestimated. It demonstrates that the national economy was not growing faster than the public sector when George Osborne made his commitment to raise government spending by two percent per annum in real terms.PUBLIC CHOICE THEORY
, 29 December 2009

A review of the themes put forward by Professor Gordon Tullock, in his book 'The Vote Motive', shows how political parties should position themselves to win in 'a two-party and three-or-more party system'. It pinpoints that a move away from consensual politics gains more votes around the edge of the voter distribution as more parties are involved.

THE TORIES ARE THE CARELESS PARTY
,
25 October 2009

A history of the modern Conservative Party reveals that, since 1970, it has been careless about its core vote and has allowed no less than six parties to take bites out of its core electoral strength.MODERNISING MAUDE'S STATISTICAL FLAWS
, 27 September 2008
An analysis of Francis Maude's interview with Epolitix.com on 16th August 2005 where he wrongly claimed the Conservative Party brand was putting off voters. It shows that his 'killer polls', which he claimed showed "people approved of our policies by and large until you told them they were Conservative Party policies" were nothing of the sort and that Francis Maude had misread and distorted the evidence of the polls.
DAVID CAMERON AND HIS PHILOSOPHY,
2 June 2007

Following his overnight stay with a Muslim family in Coventry this article examines David Cameron's extraordinary statement in The Observer, 13th May 2007, 'Not for the first time (sic), I found myself thinking that it is mainstream Britain which needs to integrate more with the British, Asian (Muslim) way of life, not the other way around'.

DAVID CAMERON'S CANDIDATES
,
24 May 2006

An examination of the flaws in David Cameron's preference for certain candidates, expounded in his speech of 12th December 2005, in which he specified women and ethnic minorities as his preferred candidates, and ignored those from White immigrant backgrounds, working class Conservatives and Catholic Conservatives.

---