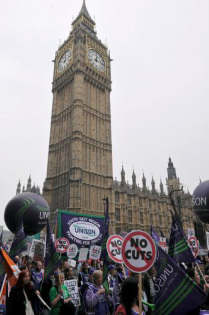 FINANCIAL CRISIS
£511 BILLION IS THE TRUE DEFICIT FOR 2009/10
, 30 March 2013
An analysis of the newly published Whole of Government Accounts shows that the true British government accounting deficit for 2009/10 is £511 billion when the increase in liabilities for state pensions are included. This reveals that the total of debt and entitlements amounted to £100,000 for every inhabitant, or £200,000 for every worker and, to get the deficit under control, pensions must be cut.
THE IMPORTANCE OF THE WHOLE OF GOVERNMENT ACCOUNTING (WGA),
15 March 2012
This article considers the strange reluctance to investigate government accounts and makes a first contribution to that analysis. It shows that, while hundreds of analysts are employed to analyse corporate accounts, hardly any commentator bothers to look at government accounts and the revolution in government accounting, the production of the first WGA for 2009/10 and those for subsequent years. It further discusses the balance sheet weaknesses, the enormous liabilities, the lack of liquidity and so forth shown in these accounts and argues that, to discuss the fiscal position of the British government, it is essential to use formal accounting and not abstracts of national income statistics.
CUT THE COSTS OF PARLIAMENT BY 50 PER CENT
, 26 November 2011
This paper argues that the electorate will only respond to a programme of cuts if Parliament cuts its own costs the hardest. It reveals that only 9% of the costs of Parliament go on MPs' pay, the rest is spent on a gigantic overhead structure.
FUNNY MONEY
, 26 November 2011
This article shows that macro-economists and politicians deal in funny money, discussing 'real' GDP and government expenditure as a percentage of GDP. But it is shown that all this is unreality and that, outside government, no-one would plan their future expenditure by referring it to a putative and, as yet, unearned increase in GDP deflated by a projected GDP deflator.
THE IMF CANNOT BAIL OUT BRITAIN,
26 November 2011
An examination of the IMF balance sheet shows that the IMF is not designed to bail out a large developed country and does not have the financial capacity to bail out the UK. It shows that the IMF is a simple savings and loan institution and can only lend what it has already got in resources - which is far too little to 'bail out' the UK.
CANTILLON EFFECTS OF BANK BAILOUTS ON THE EXIT STRATEGY. What's going on? It's all explained in 1755
, 19 June 2010
This paper shows how the provision of money via Central Banks induces Cantillon effects. These were first analysed by the Irish banker Richard Cantillon in 1755, who showed how expansion of money also redistributes it. This analysis enables one to understand why we have the revival of bank profits and the lackadaisical approach of politicians to reining in expenditure.
THE DEFICIT - CUTTING VOLUME OR PRICE
, 29 May 2010
This article shows that it is much quicker and more exact in accounting terms to cut prices (that is, wage rates and benefit rates). It demonstrates that, historically, cutting volume in government spending is an inexact and slow process and that is why the May Committee in 1931 recommended a cut in prices.
E=PV
, 18 May 2010
An historical analysis of the successful reduction in expenditure in 1931 based on the May Committee Report shows that it is exceptionally difficult to make quick volume reductions and quite easy to make price reductions in government spending.
AXEING THE GROSS CONTRIBUTIONS TO THE EU
, 29 Sept. 2009
A clear analysis of the fiscal costs of Britain's EU membership. It shows that, whether EU spending in Britain is beneficial or not, it is the gross contributions to the EU budget that form part of the British government's expenditure and, therefore, the deficit and must be cut. In summary, what the EU may spend in the UK is still a charge on British taxpayers.
FLINT-FACED, TURBO-CHARGED ACCOUNTANTS,
26 June 2009
Before he took office David Cameron said, on 19 March 2009, that he did not want to act like "flint-faced, turbo-charged accountants" but this paper shows that these were exactly the essential people required by an incoming Conservative government. This article reveals that George Osborne's proposed cuts are simply cuts in the rise in government spending and that accountants are far better qualified to get the government finances in order than macro-economists.
WHY THE GREAT DEPRESSION DID NOT RETURN AFTER WWII
,
12 April 2009
This paper discusses the economic effects of demobilisation in the USA in 1945 and how forecasts of the return of the Great Depression did not materialise, despite the sudden increase in the available civilian labour force (12 million people) and the huge reductions in government spending. It argues that understanding the reasons for this, is the key to British and American government action in the present day.
ECONOMIC DELUSIONS ARE BASED ON INADEQUATE ACCOUNTING
, 31 January 2009
An argument that proper accounts for the government are required to see if we are going broke. It shows that such accounts would enable policy to be based on reality, not on illusions and the bizarre focus of politicians on the ups and downs of the inadequate GDP statistics would cease. Its summary is that proper accounts have been used in commerce since the Middle Ages and it is time the government got up-to-date.
---